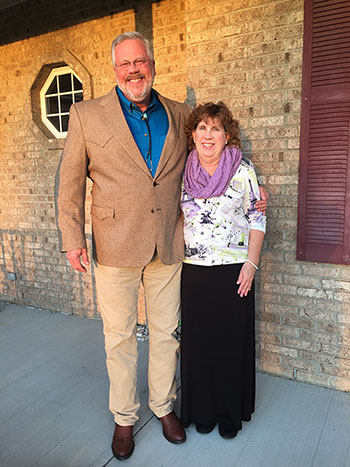 Dr. Gaston lives on a small farm with his wife of 29 years and their four children. They raise grass-fed beef and pastured poultry, grow vegetables and delicious blackberries, and are attempting to produce edible fruit in a small organic orchard.
Dr. Gaston received his doctorate in veterinary medicine from the Ohio State University in 1987. Having long desired to live in the mountain west, he had a plan to take and pass several state board exams in the western states so that, when the opportunity presented itself, he could immediately move into a new job. He started with Oregon, successfully passing the state board exam in 1988. In 1989, he obtained his license in Colorado by successfully completing the two-day state board examination. Because of the difficulty of maintaining current knowledge of all species, he did not continue with his plan to obtain licenses in five western states. However, after moving to the Cincinnati area, he obtained his license to practice in Kentucky.
After graduation, he worked for almost three years in a very busy small animal practice in rural southwest Ohio. Circumstances there allowed Dr. Gaston to assume the majority of the surgical cases including orthopedic surgeries. Because of his interest in advanced surgical training and the many opportunities to apply those skills, Dr. Gaston received advanced training in orthopedic surgery and internal fixation techniques by attending the Canine Basic Internal Fixation and subsequently the Canine Advanced Internal Fixation courses at Ohio State University.
In 1990, Dr. Gaston took a position at the Dayton Emergency Veterinary Clinic. He recognized that this position would provide him with valuable and unique experience, but would also be a challenging opportunity to provide the clients good, compassionate care in a setting that often times left pet owners unhappy because of outcomes or expenses. During his first few years in practice, he had heard many clients expressing frustration about the level of service or lack of care when they had to take a pet to the emergency clinic. Dr. Gaston determined that, to the best of his ability, it would not be the case when he worked there. As a result of that commitment, he made follow-up calls to nearly every client, several days to one week later, to get progress reports on the condition of the pets that he had cared for at DEVC. These follow-up calls provided valuable information for Dr. Gaston about the effectiveness of treatments for a variety of problems and about the overall satisfaction of the clients concerning compassion, costs, and results. At that time, there was a two doctor rotation – one week on and one week off. Unfortunately, that work week added up to 114 hours. The week started with a 23 hour shift on Sunday and ended with a 21 hour shift on Saturday. Fortunately, after several months, a third veterinarian was hired to work Saturday overnight reducing the weekly hours to 102! Because of the grueling schedule, Dr. Gaston stayed in that position for only one year. Because of the positive reputation that he developed with the referring veterinarians, he also had opportunities to work as a relief veterinarian during his off weeks, which provided a further range of practice experience.
As a result of his experiences as an employee and his varied experiences in different practices as a relief veterinarian, Dr. Gaston became determined to own a practice and began searching for an opportunity to purchase an existing practice.
In May 1991, physically and emotionally exhausted from working at the emergency clinic for a year, Dr. Gaston accepted a position with a small animal clinic in a south suburb of Dayton. The owner of the practice expressed interest in retiring and wanted a smooth transition out of practice. Dr. Gaston then joined the practice and began the difficult process of evaluation of financials and negotiating a sale price. This experience provided more valuable character-building opportunities and rich education in dealing with a contentious staff and a dishonest employer. After ten months, the situation reached a conclusion when Dr. Gaston, on the advice of an accountant and attorney, would not agree to the terms of the sale and the owner announced that Dr. Gaston was terminated, with no advanced notice. Fortunately, because of his reputation for client service, good medicine, and surgery skills, he was able to arrange full-time employment doing relief work within 1 week.
Sometimes, as we wander in the wilderness, God's guiding hand can be clearly seen. Other times, as events unfold and stressful situations arise, it can be difficult to see God's providential hand guiding and leading. In those times, it is often much easier to look back, after we have passed through the rough waters, to see how God was leading and providing for us through a challenging situation. In the fall of 1992, Dr. Gaston traveled to Cortland, Ohio to do two weeks of relief work. That in turn led to a job offer and the possibility of partnership in that practice. In February 1993, Dr. Gaston, his wife and two small children purchased a home and moved to Cortland, Ohio. Unfortunately, the partnership and ownership did not work out and it became obvious that it would likely never occur. However, during that brief time, many changes occurred and dramatically shifted Dr. Gaston's approach to veterinary medicine. In November 1995, Dr. Gaston began the search for another opportunity for ownership in a practice while he returned to relief work temporarily. The 'temporary' position as a relief veterinarian lasted over two years.
Robert Frost wrote a poem entitled "The Road Not Taken" in which a person comes to a fork in the road and must choose a path. He then chooses "the one less traveled by". Dr. Gaston has come across several of those forks in the road during his professional journey and as the words of the poem express, he "took the one less traveled by, and that has made all the difference." Many of these forks in the road occurred over a relatively brief few years between 1992 and 1996.
A chiropractic doctor and good friend of Dr. Gaston's, Dr. Terry McCoskey, became a major encourager and influence for positive change in the direction of Dr. Gaston's career. Dr. McCoskey encouraged the unbiased examination of childhood vaccinations which in turn led to a critical examination of vaccination policies in dogs and cats. In 1992, Dr. McCoskey encouraged Dr. Gaston to visit an experienced iridologist. This introduced Dr. Gaston to iridology and to the use of herbs for therapy – in place of medicine. In 1993, Dr. Gaston was also challenged by the iridologist to examine gut function as it relates to inflammatory diseases and allergies.
In 1993, a serious adverse drug reaction in Dr. Gaston's 2 year old daughter, led to a re-examination of drug-based paradigms and prompted Dr. Gaston to search for more natural ways to treat illness.
During this same period, because of his search for a chiropractor near Cortland, he became acquainted with Dr. Lenhart in Sharon, PA. Dr. Lenhart had purchased a set of cassette tapes of Dr. Jeffrey Bland speaking about functional medicine and loaned them to Dr. Gaston. The basic concepts presented were that the GI tract played a significant role in inflammatory and allergic disease and that nutrition could affect biological function, modify inflammation, and affect genetic expression. The message was very profound, but so radical that Dr. Gaston loaned the tapes to another acquaintance, a dentist named Dr. Willoughby, who was also interested in holistic methods. Dr. Willoughby confirmed Dr. Gaston's belief that Dr. Bland's insight was brilliant and on the cutting edge of where medicine would someday go. Learning the concepts of "functional medicine", as Dr. Bland called it, was a major fork in the professional road. After listening to two more tape sets, personally attending two annual seminars and two international symposia on functional medicine, along with more reading about vaccines, immunity, functional foods, herbs, etc., it was difficult for Dr. Gaston to continue working in the traditional medical paradigm.
Therefore, Dr. Gaston had reached the point at which he could not continue to work as an employee or as a relief worker and maintain a clear conscience. Many standard practices regarding medicine, vaccinations, and nutrition were contrary to his new research, understanding, and knowledge. It became imperative to purchase a practice or start one from scratch.
He attempted to start a practice in two different locations near Bellbrook, Ohio, but failed to secure appropriate zoning. Eventually, in 1997, Dr. Gaston was faced with three choices: purchase a practice in Canyon City, CO; accept a position with Great Smokies Diagnostic Laboratory in Ashville, NC to head up their veterinary diagnostics division; or purchase a practice in Harrison, Ohio. Eventually, the decision was made to purchase Cincinnati Southwest Veterinary Care and move to Harrison, Ohio. Finally, in March 1998, in charge of all the decision-making, he had free reign to implement his new approach to veterinary medicine. While he expected widespread acceptance, he discovered that many clients in the practice viewed these changes as unwelcome.
Many clients stayed during the transition but many left for other conventional practices in the area. Gradually, through word of mouth, more clients began coming from farther distances. The addition of chiropractic adjustments for animals in 2000 and acupuncture in 2003 has contributed to the wide area from which clients now come. Concerned, committed clients come from as far away as Columbus, Lexington, and Indianapolis to receive a unique style of care for their pets that is not available in other veterinary practices. Dr. Gaston is grateful to these individuals, and humbled to realize how many other veterinary practices that they pass on their way to Harrison. Dr. Gaston is committed to his clients, and their pets, to provide the best possible integrated care.
Professional memberships and affiliations of Dr. Robert Gaston
Other associations
Links